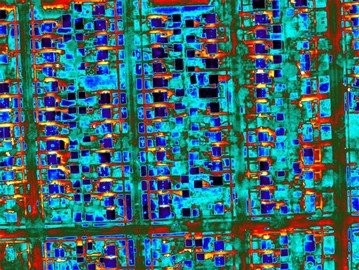 As RecoverIRô flies over very large geographic areas and creates fully-integrated zoomable images like the image on the left; we are able to examine neighborhoods which might be colorized to indicate relative inefficiencies. By working with utility companies, counties, states, and the federal government to prioritize those residential, commercial, and industrial buildings, we can realize the greatest improvements in efficiency from the weatherization, i.e. we can help maximize the value of weatherization programs.

Once a building has been identified as a possible candidate for further analysis, we have access to many infrared professionals who can further examine the building and produce extraordinarily accurate measurements through images like the infrared image of the house below.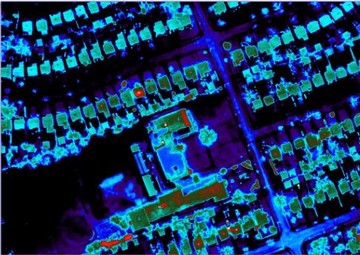 For those companies wishing to sell weatherization products, we can help segment the market place to increase the probability that advertising will target those homes and facilities which are in need of weatherization products. Sometimes, simply knowing that the homes are well insulated like those shown in the picture to the left, is useful information.

We are prepared to work with you to help improve the effectiveness of utility, local, state, and federal weatherization programs to identify groups of houses which require further weatherization to lower the costs to those homeowners or renters.