RecoverIR is prepared to work with your utility to efficiently identify partial and complete energy theft among your customers. We at RecoverIRô is so confident in our proprietary aerial infrared energy theft detection capabilities, we are now offering to take all of the financial risk associated with finding a substantial number of previously undetected energy thieves in your service territory.

After you execute a contract with RecoverIRô for energy theft detection, if we donít find any new previously undetected energy thieves in your service territory, you do not pay anything! You will not need to run any pilot programs or commit to a fixed price contract. You only pay for results and we take all the risks.

What Difference Does it Make if you Don't Detect Most of the Energy Thieves?


Increasing number of residences stealing electricity with impunity?

Residential, Commercial and Industrial customers bypassing meters?

Greater danger to community members and increased fire hazards?

More utility liability?

Bill paying consumers end up paying for energy for theives?

Higher undetected energy inefficiencies?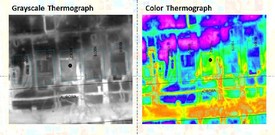 RecoverIR has a variety of techniques and technologies which will allow for the identification of moderate-energy-theft, high energy use suspect "Marijuana Grow Houses" and other illegal operations which might use large amounts of electricity or other energy, or the inhabitants of a particular piece of property might be doing something illegal so that one or more utilities cannot get accurate readings for the amount of energy that will be billed.

We have many techniques to examine indicators to categorize houses with excessive or abnormal amounts of heat from the house.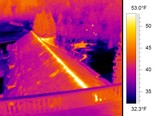 Over the years after significant development, our professionals use a combination of imaging, characteristics of similar house in the neighborhood, monthly billing rates, and other more subtle techniques to categorize energy use, energy inefficiencies, and weatherization improvement opportunities.

We typically work with our clients to make sure we understand the issues and needs, before we tailor our solutions.

During our aerial infrared assessments in many cities (including New York, Boston, Detroit, etc.) RecoverIR unveils many issues from our fully integrated aerial images.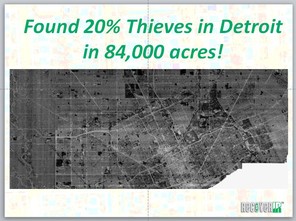 In addition to simply finding multiple types complete and partial energy theft, we frequently identify additional issues which include, but are not limited to:


Homes and apartment buildings which were occupied with no utility billing records;

Weatherization problems in residential areas;

Energy inefficiencies in government, industrial, multi-residential and commercial buildings;

Underground steam leaks; and

Unauthorized warm discharges from facilities, sometimes toxic.