RecoverIR helps target lost energy in many ways.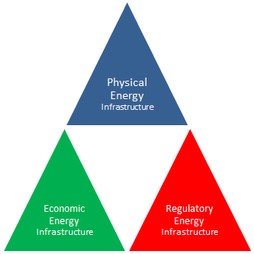 We know where to look for the lost energy and have the technology to help our customers optimize finding lost energy.

What parts of the energy infrastructure are closely coupled?
The energy infrastructure of America can be broken into at least three fundamental closely coupled, interacting infrastructures as shown in :



If the government economics (subsidies, funding, tax credits, etc.) do not support the physical infrastructure or regulations prevent the building of certain types of plants, then the physical energy infrastructure will change or fall apart. Economics and regulations directly support the success, change or failure of parts of the physical energy infrastructure.